So, first the pitch — for your Black Friday shopping pleasure, here's a couple of things that will help scratch that itch to play around with hardware.
First of all, two chumby-powered devices under the Insignia brand in Best Buy are on sale for Black Friday. The original 8″ Infocast device — an 800 MHz linux PC with an 8″ SVGA LCD and touchscreen — is rumored to be on sale for as low as $99 in some stores, although Best Buy's on-line price pegs it at $129. Either way, it's a smashing deal for a linux PC.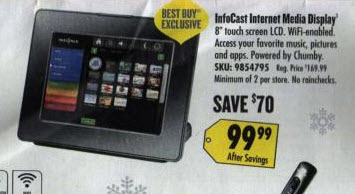 The other chumby-powered device is the 3.5″ Infocast, which you can think of as the Chumby One Internet Radio's
battery-less little brother. This, too, is on sale for Black Friday, and at just $79, it's a steal.
The motherboard for the 3.5″ Infocast is shown below, and if it looks familiar, you'd be right.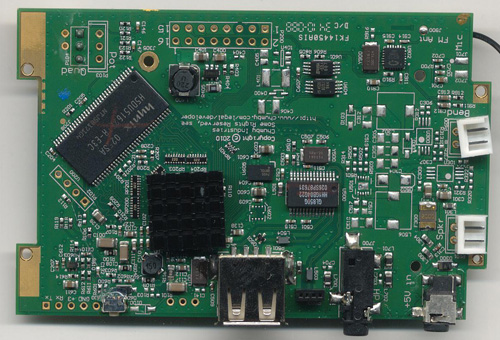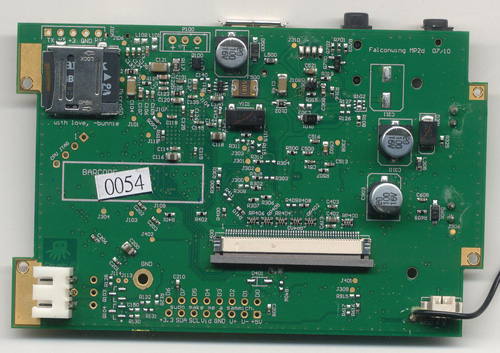 One small improvement to the 3.5″ Infocast board is the addition of a "mod port" which breaks out several GPIOs, I2C, composite video, and a spare USB port to a 0.1″ pitch header (which is a subset of the pinout that's featured in the chumby hacker board), shown below.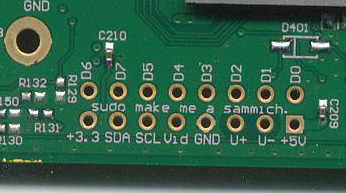 sudo find me a Cake!
So here's where the Cake comes in. Somewhere on the motherboard of the Infocast 3.5″, I've hidden a cake — the cake is not a lie. The first person who can find the cake and post a photo of it within the next two months will be given a cash prize of US$300. Put in perspective, that's two months' wage for a Chinese factory worker (and that's after the across-the-industry 20% raises that were effected by a string of suicides at Foxconn, where the iPhone is assembled). Given that the standard monthly prize for Name that Ware is just $10, this gives an idea of how hard I think it is to find the cake. But, I promise you — the cake is not a lie.
Bitbake it yourself!
And here's where the Bitbake comes in. For those who have been wanting to build your own firmware for both the 8″ and 3.5″ chumby platforms, a simple solution finally exists. As announced on the chumby forum, there is now an easy to use Open Embedded configuration that will allow you to build and customize, from scratch, your very own firmware image.
You can configure the firmware to be anything from a minimal console-only build, to one that includes a window system and web browser of your choosing. The build configuration is "complete" in the sense that the product of the OpenEmbedded build is a binary image that you can directly write to the microSD card and boot with no need for further massaging.
Have a happy holiday weekend!