The ware for December 2010 is an Inmarsat receiver board. According to the submitter, the ware has notable a history:
This is the Inmarsat receiver used during the round-the-world balloon flight attempts by Steve Fossett and Richard Branson. It was located on the ground along with a whole rack full of related equipment. Some time ago a friend of a friend bought the whole lot on eBay, not really expecting to win. It took up a lot of space in his flat for a while, before being donated to the Dorkbot Alba electronics group. It is currently all taking up space in the Edinburgh Hacklab, if anybody wants it…
Here is the uncensored image of the board, along with a picture of the rack of equipment that went along with it: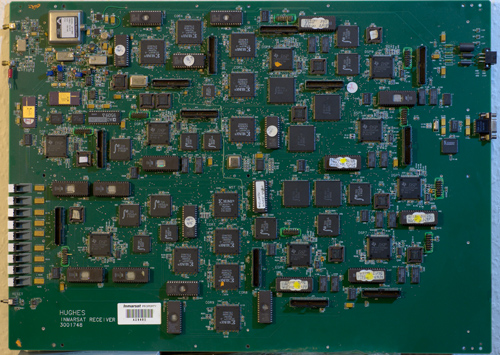 For the first time in the history of Name that Ware, I do not have a clear winner. After the 70 MHz IF hint was posted, many homed in on it being a kind of satellite receiver front end. Many of the answers were also very thorough, so much that I couldn't really declare a winner based solely upon quality and depth of analysis (which is my typical tie-breaking factor). As a result, I'm going to declare the reader who submitted this ware the winner — Martin Ling gets the prize this month for stumping the readers!