The ware for November 2007 is shown below, taken fully apart. As you can see, the ware consists of three circuit boards.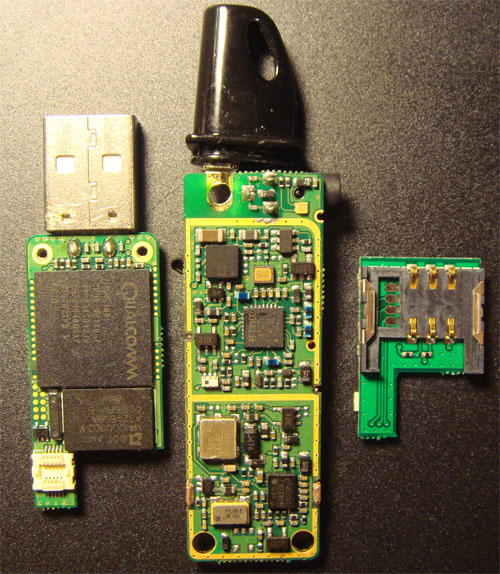 The ware is an A+Xunchi U3 CDMA 1x RTT wireless data dongle. I paid 250 quai for this in China, lightly negotiated, and I guess I did okay because this website shows an on-line price of 290 quai. Today's exchange rate puts 250 quai at US $33.90.
Picking the winner was a bit tough. Karl guessed the $0.50 Euro coin, but Flo got it exactly right by pointing out that there are two of them :-). I figure I might as well accept the trend that the US dollar is on its way out, and treat Euros as the currency of reference.
Seriously though, while none of the guesses got it exactly right, several got the general class of the device right (WAN data modem); in fact, EVDO is the evolution of the 1xRTT data standard, and GPRS offers comparable data rates to 1xRTT. Speaking of a shift in reference points — usually people nail my wares because they are well documented in the English-speaking world, and Google "knows all". This actually highlights an important limitation: English speakers can't search Chinese web pages. There are volumes of knowledge out there in Chinese that remain closed to us. As the Chinese tech sector grows, it is becoming more important to make efforts to search in Chinese. Just try searching for USB mass storage controller ASICs, or digital picture frame SoCs on Google in English, and then go and open up one of these devices and compare your findings. I bet you'll find that the chips most frequently used in these popular devices are best searched for in Chinese.
I digress. Jered was the first to guess in this class of devices, calling it an EVDO modem, and at a price of $150. Felix is the next to guess EVDO, but finally concludes it is GPRS at $20-$30; so the price is right, and he's got the right-generation of data technology (GPRS and 1xRTT are both 2.5G data standards). Unfortunately, Felix revises his guess to be an EVDO device (Anydata ADU-510D/Anydata ADU-610W) at a price of $250. bitrex also picks up on the EVDO modem thread as well, and guesses a price of 1 euro, but then revises the guess to a TrackStick GPS Data Logger at $100.
Normally, I think I would award the prize to the person with the best analysis, which is fundamentally the point of Name that Ware — to promote the concept of learning through reverse engineering. To that end, Felix had the best posted analysis. This doesn't mean to say that other contestants didn't analyze: I have to consider that I changed the rules for this instance of the contest. I had restated the rules to center around correctness, and not analysis, so perhaps some contestants did not post their thought process because it could give an edge to other readers. Ironically, I changed the rules to make the judging easier, under the assumption that multiple people would guess the exact ware outright (which is usually the case for Name that Ware), but in the end it actually made judging harder. Also, I think I have to go with only the final guess, because if I allowed multiple guesses then one could just guess lots of things randomly and increase their chance of winning. Next time, I will stick to the original "best analysis" rules, even if I'm offering a higher value prize like a chumby.
It was a tough contest to judge, but the winner is Jered! Congratulations. Please email me and let me know which color of a chumby you would like: black, brown, or white! And thanks to everyone who played. I'll post the next ware in a couple of weeks.