Riddle me this: how does a government enforce tax collection in a cash-only society? Cash has the wonderful property of being anonymous, and therefore hard to track. As a result, cash businesses often under-report revenues, thereby dodging a portion of tax payments.
China is primarily a cash-driven economy; few local places will accept payment cards of any kind (event rent payments are made in cash — a big, fat stack of cash, as the largest bill in China has an equivalent value of about US$15). As such, China has a big challenge around collecting taxes.
A solution to the problem is to go with a tax pre-payment system. At the beginning of every month, every business is required to pay an estimated tax. Proof of tax payment is issued in the form of "fapiao" (发票). They look a bit like the one below: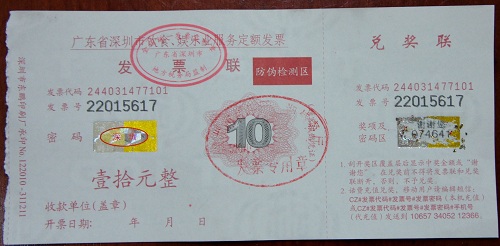 This fapiao represents tax paid on 10元 (元 is like the $ symbol, and colloquially pronounced "kuai"), so the restaurant I got this from probably paid about 1-2 kuai for this fapiao. When you settle your bill in a restaurant, in addition to getting the itemized receipt, you are supposed to receive a stack of fapiao of equivalent face value.
At the end of the month, the restaurant claims a tax refund on any remaining fapiao. As a result, fapiao are basically as good as money to the restaurant; hence, the fapiao are printed on watermarked paper with anti-counterfeiting measures, and employ serial numbers you can validate by sending an SMS to a government hotline. Also, restaurants have a strong incentive to omit a few fapiao from your stack, or completely forgo giving you the fapiao (they love it when foreigners dine, because they don't know about fapiao — they get big business and they get the tax refund on it!).
So, how does one enforce the distribution of fapiao to customers? China's clever solution is to make every fapiao a lottery ticket. If you look at the above photo carefully, you'll see two metallized patches on the fapiao. You can scratch these off, and underneath might reveal a prize! Of course, the one I have above is a losing ticket — it just says "thank you", with a serial number; but the prize can be thousands of kuai.
And so, China has crowdsourced tax enforcement, by potentially rewarding citizens with a cash reward for asking for all of their tax pre-payment receipts, and using them up by scratching off the prize areas. The cost of this massive force multiplier is vanishingly small, as all they are offering is the chance to win; I have only ever seen one winning ticket in the past couple of years, and it was for about 2 kuai. Still, it is a nice cultural touch to the end of a big meal, everyone sitting in a circle, scratching their fapiao to see if they won a prize for playing the part of a Chinese tax enforcement agent.
Of course, with every new system, new problems come in. One is that the waitstaff might nick a couple of fapiao en route to the customer. So now, to get your fapiao you usually have to go in person to a special counter that manages its distribution. And, of course, the restaurant can offer a bribe in place of the fapiao. Just this past month when I was visiting Harbin, I went to collect my lottery tickets and the lady at the register glanced at my 80 kuai receipt and offered to pay me 4 kuai instead of giving me fapiao! I was a bit surprised at how brazen the offer was, but in retrospect, I clearly was not from around there, and thus unlikely to be an auditor.