I'm very honored and proud to have one of my books offered as part of the Hacking Humble Bundle. Presented by No Starch Press, the Hacking Humble Bundle is offering several eBook titles for a "pay-what-you-feel" price, including my "Hacking the Xbox", along with "Automate the Boring Stuff with Python", "The Linux Command Line" and "The Smart Girl's Guide to Privacy". Of course, you can already download Hacking the Xbox for free, but if you opt to pay at least $15 you can get 9 more fantastic titles — check out all of them at the Humble Bundle page.
One of the best parts about a humble bundle is you have a say in where your money goes.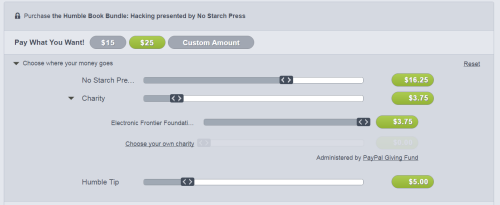 If you click on "Choose where your money goes" near checkout area, you're presented with a set of sliders that let you pick how much money goes to charity, how much to the publisher, and how much as a tip to the Humble Bundle. For the Hacking Humble Bundle, the default charity is the EFF (you're free to pick others if you want). For the record, I don't get any proceeds from the Humble Bundle; I'm in it to support the EFF and No Starch.
If you enjoyed Hacking the Xbox, this is a perfect opportunity to give back to a charitable organization that was instrumental in making it happen. Without the EFF's counsel, I wouldn't have known my rights. Knowledge is power, and their support gave me the courage I needed to stand up and assert my right to hack, despite imposing adversaries. To this day, the EFF continues to fight for our rights on the digital frontier, and we need their help more than ever. No Starch has also been a stalwart supporter of hackers; their founder, Bill Pollock, and his "Damn the Torpedoes, Full Speed Ahead" attitude toward publishing potentially controversial topics has enabled hackers to educate the world about relevant but edgy technical topics.
If hacking interests you, it's probably worth the time to check out the Hacking Humble Bundle and give a thought about what it's worth to you. After all, you can "pay what you feel" and still get eBooks in return.