Joi Ito brought a neat toy to FOO Camp this year — a Tenori-On. The Tenori-On is this very interactive, beautiful piece of hardware created by Toshio Iwai that, to paraphrase his words, creates a "visible music" interface with a shape and sound that fits the player organically, a sort of re-invention of the violin for the digital age. Here's a neat YouTube demo of the Tenori-On. I had seen this instrument for the first time in a fabulous live performance by Cornelius in Tokyo, and had since lusted for it.
Joi was an amazingly good sport, and let me do what I instinctively want to do when I see a piece of sexy hardware like this — undress it! Thankfully, I always travel with screwdrivers and a camera to capture rare opportunities like this, so I was able to capitalize on the moment. I did get it apart (and put back together again!!), and here are some photos of the innards to share with you. I'll eventually throw these photos up on ifixit, it's a better site for sharing teardowns.
(Most images click to reveal a larger version)
Such a pretty face.
Backside view, showing the array of 256 decorative LEDs on the backside. The button sheets are, in this case, dummies used to diffuse the LED light evenly.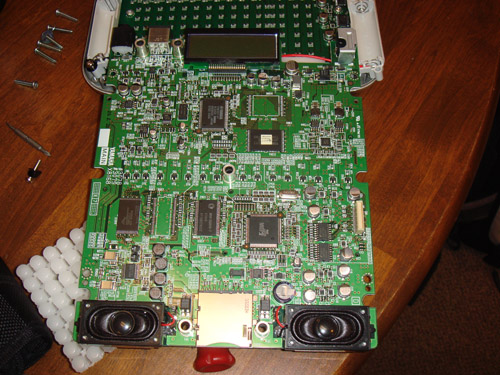 The brains of the Tenori-On. Nice piece of work, well laid out (very nice symmetry around all the parts, good isolation of analog and digital), some premium component choices.
Backside of the 256-switch + LED array. There's a diode at each intersection of the keyboard scan array.
Front side of the 256-switch + LED array that's behind the active button panel.
The backside of the front bezel, showing the array of buttons. The case is made out of cast Aluminum, which is a pretty expensive technology for a relatively low-run product. Each button is carefully designed to allow for a uniform spreading of the LED light while also allowing for easy pressing of the offset switch.
Thanks again to Joi for letting me open up this baby!