SEND HELP I"M AT MICROSOFT AND HELD HOSTAGE BY BLUESNIPER!!!!
Okay, so the picture is for real but the caption isn't. (RSnake has a much better version of the photo here). I am at Microsoft, but the guy on the left isn't a Microsoft lawyer. He's John Hering, a founder of Flexilis, inventor of the BlueSniper device for long-range Bluetooth hacking attacks, and all around brilliant guy. John was also a presenter at this years' Bluehat and he was told to look menacing for a photo…but he just looks so friendly it wasn't believable. So, I figured I'd add myself to the photo in the executionee pose to give it a little extra flavor.
The picture is actually somewhat apropos because I've always believed that Bluetooth will be the death of me (and incidentally, one of the less flattering phonetic translations for chumby in Chinese literally means "execution by gun through the back of the head". We didn't use that one.). I've been through one frustrating startup designing Bluetooth/802.11b coexistence solutions and now I have this nasty allergic reaction to all things Bluetooth. I have an eye-rolling rant about how there is an eight-inch thick spec and million-transistor radio solutions whose primary application — point to point two-way wireless audio — was solved back in the 60's with the three-transistor walkie-talkie (OK fine it's just simplex but you get the idea). With a few thousand very nice CMOS transistors today you could build an extremely low power, low cost single-chip solution that would be so low power it would run for months and so cheap it would be disposable. Talk about a business–disposable fashion headsets that "just worked"–no association headaches, robust performance, etc. Anyways, I could go on for a while about my frustrations with this IrDA of the 00's but I'll save you the rant (unless you really want to hear it…)
I was at Bluehat giving a presentation with Felix Domke on various hardware hacking exploits, including silicon hacks, dbox-2, Gamecube, and of course, the Xbox360 (Felix is a genius and a gentleman). Below is a photo of Dinart Morais (whose initials ironically are "drm"), the designer of the Xbox360 security, and Michael Steil, Felix Domke, and me.
It was quite an honor to meet the man who designed such an excellent security system. We had a lot of questions for him, and he was very friendly. I guess since we have given our talk now, there is no more secret about it, some of the folks in the picture above were part of the team that published the February 2007 Xbox360 Hypervisor Priviledge Escalation Vulnerability. Fortunately, Microsoft was very receptive to working with us to fix the vulnerability before it was published and in the end it was a constructive exercise for all parties involved.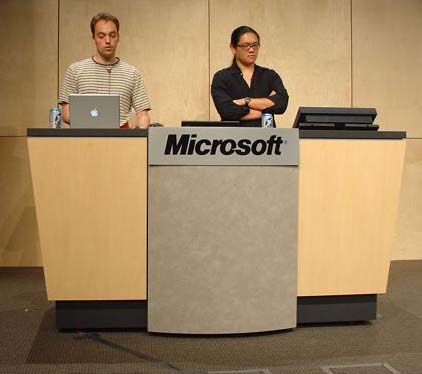 omg wtf I'm at Microsoft talking about Xbox hacking??!?!?
Please see Important Clarifications as well. Felix Domke (tmbinc) is the genius behind the Xbox360 hack. Please credit him properly!