I finally got approval to post a picture of the chip I've been working on at Luxtera for the past few months of my life. This chip was talked about briefly at ISSCC 2006, but a photo wasn't included in the paper…so here it is.
And in its package, with the lid and fiber couplings removed: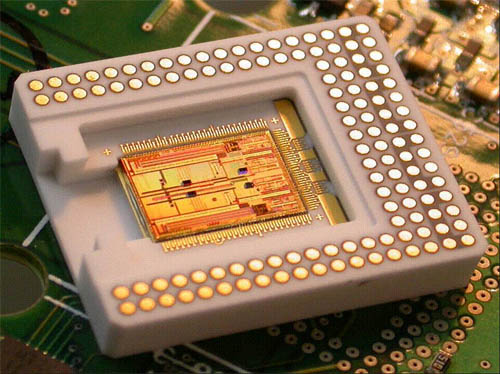 Briefly, the chip is a dual 10 Gigabit/s optical transceiver with integrated electro-optical signal conditioning, clock and data recovery, control and calibration circuitry, and various other testability features (I guess if I were to put on my marketing hat, I would use words like "world's first integrated photonic system on a chip"). It was a very interesting chip to design. The interaction of the photonic elements and how it guides the architectural and physical design choices you can make in an integrated system are definitely unique and interesting. I think my favorite part of doing this chip was the opportunity to work on every level of the project–physics, silicon, tools, models, circuits, systems, layout, architecture, photonics, market reqs, test, characterization, boards, yield, etc. and to work on all of this with a talented team of engineers…a great learning experience that pushed me on all fronts.