With the madness of CES over and the Chinese New Year holiday coming up, I finally found some time to catch up on some back issues of Science. I came across a beautiful diagram of the metabolic pathways of one of the smallest bacteria, Mycoplasma Pneumoniae. It's part of an article by Eva Yus et al (Science 326, 1263-1271 (2009)).
Looking at this metabolic pathway reminds me of when I was less than a decade old, staring at the schematic of an Apple II. Back then, I knew that this fascinatingly complex mass of lines was a map to this machine in front of me, but I didn't know quite enough to do anything with the map. However, the key was that a map existed, so despite its imposing appearance it represented a hope for fully unraveling such complexities.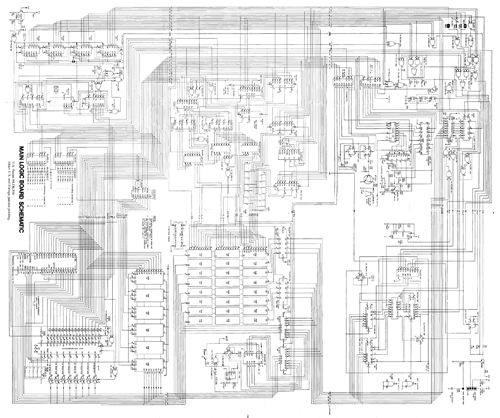 The analogy isn't quite precise, but at a 10,000 foot level the complexity and detail of the two diagrams feels similar. The metabolic schematic is detailed enough for me to trace a path from glucose to ethanol, and the Apple II schematic is detailed enough for me to trace a path from the CPU to the speaker.
And just as a biologist wouldn't make much of a box with 74LS74 attached to it, an electrical engineer wouldn't make much of a box with ADH inside it (fwiw, a 74LS74 (datasheet) is a synchronous storage device with two storage elements, and ADH is alcohol deydrogenase, an enzyme coded by gene MPN564 (sequence data) that can turn acetaldehyde into ethanol).
In the supplemental material, the authors of the paper included what reads like a BOM (bill of materials) for M. pneumoniae. Every enzyme (pentagonal boxes in the schematic) is listed in the BOM with its functional description, along with a reference that allows you to find its sequence source code. At the very end is a table of uncharacterized genes — those who do a bit of reverse engineering would be very familiar with such tables of "hmm I sort of know what it should do but I'm not sure yet" parts or function calls.