The Ware for May 2011 is an Intel SSDSA2CW300G3 300 GByte solid state drive.
Here's the complete scans of the front and back of the PCB, since I have 'em: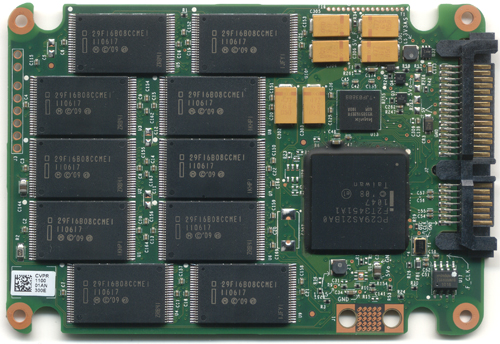 I recently upgraded my trusty T61p laptop to a T520, and decided that I'd also drop in a pair of SSDs. The T520 is a great machine, btw. I have one 300 GB Intel SSD in the main slot, and a 128 GB Samsung SSD in the Ultrabay. My old T61p had a single 256 GB Samsung SSD, which replaced a Crucial SSD that failed within hours of installation.
After the false start with the Crucial SSD, I was wary of the reliability of these devices. Now, I'm pleased to say that after a year and a half of heavy use the Samsung still works well, although the write times have gotten quite bad. Hence, the dual-SSD setup: mostly static files go on the Intel SSD, and the Samsung SSD gets the big temp/scratch files, with the intention that it will be replaced every year without having to re-image the laptop.
This past month's ware was an easy one to guess, but I can't make all of 'em tough; there's just too many smart readers out there. I'll just go with the first responder as the winner, Ty_a. Congrats! email me for your prize.