Around 2,500 years ago, the phrase "min yi shi wei tian" was coined by Prime Minister Guan Zhong; there are several ways to translate it. One side of the coin takes the literal approach and says that "people consider food divine", or "for people, food is next to heaven". The other side of the coin looks at it as a piece of governing advice, "the government's mandate [synonymous with heaven] is only as robust as the food on people's plates". Or, it could be just thought of as an excuse to procrastinate: "let's eat first [since it is as important as heaven]".
Which ever way you cut it, I think the saying still holds in China. So one important metric for gauging the quality of treatment of the factory employees is how good the food is, as it's common for factory workers to be housed, fed, and cared for on site.
The food is actually quite good at some factories. The photo above is at the factory that does the chumby circuit boards. It was a mix of steamed fish, broiled pork, egg rolls, clean fried vegetables, and some pickled-vegetable-and-meat combo. Rice, soup, and apples were also provided in help yourself quantities.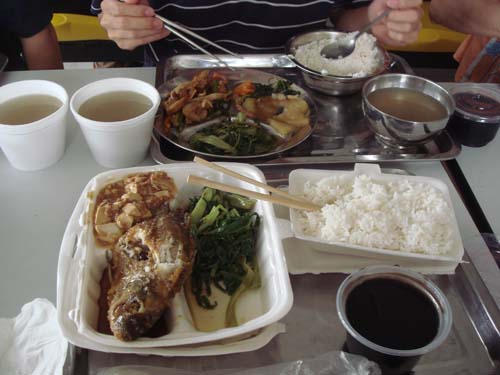 One interesting fact is that every facility I went to had separate utensils and plates for guests. You can see in the above photo how my food is on a styrofoam plate with disposable chopsticks, where as the factory worker's food is served on a steel plate with steel chopsticks. This is because I haven't passed the factory's physical examination. They do this to prevent me from contaminating the factory with potential foreign diseases. The food in the above photo consists of smoked fish, ma po tofu, boiled vegetables, and turtle shell jelly (for dessert). The turtle shell is very bitter and apparently it's supposed to make you feel cooler on the hot summer days in China.
The menu is quite interesting in China. I think the menu the day I went to this factory had items on it like pig intestines, kidneys, fungus and vegetables, along with some other more western-friendly items.
Again, the scale of some food operations is pretty impressive. I heard that Foxconn–the place that makes the iPods and iPhones–consumes 3,000 pigs a day. I saw this truck of pigs going off the exit on the highway toward Foxconn, and it reminded me of that factoid.
From pigs to iPhones! It all happens right here in Shenzhen.