After going through the many photos I took in my travels over the past several months, I found two that I thought were interesting and shareable. Both images are clickable links to a higher-resolution version; and remember, all content on this website is Creative Commons by-nc-sa.
This photo is a nice juxtaposition of an artery of speeding humanity against the steel-and-glass body of Hong Kong that it nourishes. This was taken from the balcony of the China Club in Hong Kong. The China Club is a members-only affair, and we were fortunate to be there as guests of Liam Casey, aka "Mr. China".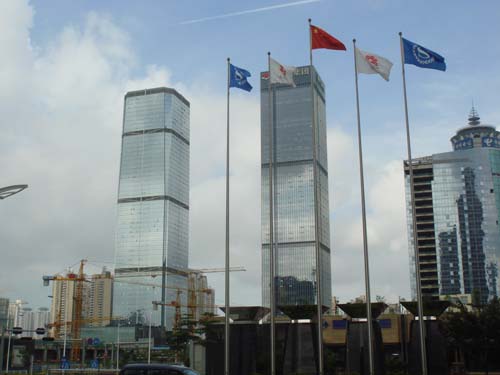 This was an unusually sunny day for Shenzhen; in honesty, it's rare to see blue sky due to the pollution in the area, but for several days in a row during that trip there was beautiful weather. Shenzhen's skyline is growing at a frenetic pace, and it's a very planned city, as evidenced by the regularly arrayed skyscrapers–it's almost as if the city planners played way too much Sim City in a previous life. Shenzhen city is slated to have a minimum of 40% "green areas" and so far they are doing a good job of keeping to that. The ever-present construction cranes in the foreground are an indication of the eternally under-construction look of the area. This picture was taken from the front of the new Sheraton Futian Sheraton, a hulking, obsidian black palace of a hotel, a gaudy icon of parvenu Shenzhen. Comfortable rooms, so-so food (but good food can be found in walking distance) and as always, free bottled water and free internet (a custom I wish US hotels would adopt!).