There's an Internet controversy going on between Dale Dougherty, the CEO of Maker Media and Naomi Wu (@realsexycyborg), a Chinese Maker and Internet personality. Briefly, Dale Doughtery tweeted a single line questioning Naomi Wu's authenticity, which is destroying Naomi's reputation and livelihood in China.
In short, I am in support of Naomi Wu. Rather than let the Internet speculate on why, I am sharing my perspectives on the situation preemptively.
As with most Internet controversies, it's messy and emotional. I will try my best to outline the biases and issues I have observed. Of course, everyone has their perspective; you don't have to agree with mine. And I suspect many of my core audience will dislike and disagree with this post. However, the beginning of healing starts with sharing and listening. I will share, and I respectfully request that readers read the entire content of this post before attacking any individual point out of context.
The key forces I see at play are:
Prototype Bias – how assumptions based on stereotypes influence the way we think and feel
Idol Effect – the tendency to assign exaggerated capabilities and inflated expectations upon celebrities
Power Asymmetry – those with more power have more influence, and should be held to a higher standard of accountability
Guanxi Bias – the tendency to give foreign faces more credibility than local faces in China
All these forces came together in a perfect storm this past week.
1. Prototype Bias
If someone asked you to draw a picture of an engineer, who would you draw? As you draw the figure, the gender assigned is a reflection of your mental prototype of an engineer – your own prototype bias. Most will draw a male figure. Society is biased to assign high-level intellectual ability to males, and this bias starts at a young age. Situations that don't fit into your prototypes can feel threatening; studies have shown that men defend their standing by undermining the success of women in STEM initiatives.
The bias is real and pervasive. For example, my co-founder in Chibitronics, Jie Qi, is female. The company is founded on technology that is a direct result of her MIT Media Lab PhD dissertation. She is the inventor of paper electronics. I am a supporting actor in her show. Despite laying this fact out repeatedly, she still receives comments and innuendo implying that I am the inventor or more influential than I really am in the development process.
Any engineer who observes a bias in a system and chooses not to pro-actively correct for it is either a bad engineer or they stand to benefit from the bias. So much of engineering is about compensating, trimming, and equalizing imperfections out of real systems: wrap a feedback loop around it, and force the error function to zero.
So when Jie and I stand on stage together, prototype bias causes people to assume I'm the one who invented the technology. Given that I'm aware of the bias, does it make sense to give us equal time on the stage? No – that would be like knowing there is uneven loss in a channel and then being surprised when certain frequency bands are suppressed by the time it hits the receivers. So, I make a conscious and deliberate effort to showcase her contributions and to ensure her voice is the first and last voice you hear.
Naomi Wu (pictured below) likely challenges your prototypical ideal of an engineer. I imagine many people feel a cognitive dissonance juxtaposing the label "engineer" or "Maker" with her appearance. The strength of that dissonant feeling is proportional to the amount of prototype bias you have.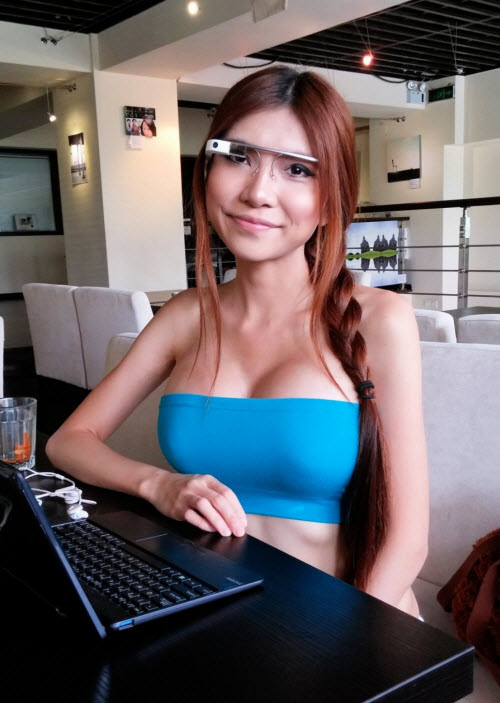 I've been fortunate to experience breaking my own prototypical notions that associate certain dress norms with intelligence. I'm a regular at Burning Man, and my theme camp is dominated by scientists and engineers. I've discussed injection molding with men in pink tutus and learned about plasmonics from half-naked women. It's not a big leap for me to accept Naomi as a Maker. I'm glad she's challenging these biases. I do my best engineering when sitting half-naked at my desk. I find shirts and pants to be uncomfortable. I don't have the strength to challenge these social norms, and secretly, I'm glad someone is.
Unfortunately, prototype bias is only the first challenge confronted in this situation.
2. Idol Effect
The Idol Effect is the tendency to assign exaggerated capabilities to public figures and celebrities. The adage "never meet your childhood hero" is a corollary of the Idol Effect – people have inflated expectations about what celebrities can do, so it's often disappointing when you find out they are humans just like us.
One result of the Idol Effect is that people feel justified taking pot shots at public figures for their shortcomings. For example, I have had the great privilege of working with Edward Snowden. One of my favorite things about working with him is that he is humble and quick to correct misconceptions about his personal abilities. Because of his self-awareness of his limitations, it's easier for me to trust his assertions, and he's also a fast learner because he's not afraid to ask questions. Notably, he's never claimed to be a genius, so I'm always taken aback when intelligent people pull me aside and whisper in my ear, "You know, I hear Ed's a n00b. He's just using you." Somehow, because of Ed's worldwide level of fame that's strongly associated with security technology, people assume he should be a genius level crypto-hacker and are quick to point out that he's not. Really? Ed is risking his life because he believes in something. I admire his dedication to the cause, and I enjoy working with him because he's got good ideas, a good heart, and he's fun to be with.
Because I also have a public profile, the Idol Effect impacts me too. I'm bad at math, can't tie knots, a mediocre programmer…the list goes on. If there's firmware in a product I've touched, it's likely to have been written by Sean 'xobs' Cross, not me. If there's analytics or informatics involved, it's likely my partner wrote the analysis scripts. She also edits all my blog posts (including this one) and has helped me craft my most viral tweets – because she's a genius at informatics, she can run analyses on how to target key words and pick times of day to get maximum impact. The fact that I have a team of people helping me polish my work makes me look better than I really am, and people tend to assign capabilities to me that I don't really have. Does this mean I am a front, fraud or a persona?
I imagine Naomi is a victim of Idol Effect too. Similar to Snowden, one of the reasons I've enjoyed interacting with Naomi is that she's been quick to correct misconceptions about her abilities, she's not afraid to ask for help, and she's a quick learner. Though many may disapprove of her rhetoric on Twitter, please keep in mind English is her second language — her sole cultural context in which she learned English was via the Internet by reading social media and chat rooms.
Based on the rumors I've read, it seems fans and observers have inflated expectations for her abilities, and because of uncorrected prototype bias, she faces extra scrutiny to prove her abilities. Somehow the fact that she almost cuts her finger using a scraper to remove a 3D print is "evidence" that she's not a Maker. If that's true, I'm not a Maker either. I always have trouble releasing 3D prints from print stages. They've routinely popped off and flown across the room, and I've almost cut my fingers plenty of times with the scraper. But I still keep on trying and learning – that's the point. And then there's the suggestion that because a man holds the camera, he's feeding her lines.
When a man harnesses the efforts of a team, they call him a CEO and give him a bonus. But when a woman harnesses the efforts of a team, she gets accused of being a persona and a front. This is uncorrected Prototype Bias meeting unrealistic expectations due to the Idol Effect.
The story might end there, but things recently got a whole lot worse…
3. Power Asymmetry
"With great power comes great responsibilities."
-from Spider Man
Power is not distributed evenly in the world. That's a fact of life. Not acknowledging the role power plays leads to systemic abuse, like those documented in the Caldbeck or Weinstein scandals.
Editors and journalists – those with direct control over what gets circulated in the media – have a lot of power. Their thoughts and opinions can reach and influence a massive population very quickly. Rumors are just rumors until media outlets breathe life into them, at which point they become an incurable cancer on someone's career. Editors and journalists must be mindful of the power they wield and held accountable for when it is mis-used.
As CEO of Maker Media and head of an influential media outlet, especially among the DIY community, Dale Dougherty wields substantial power. So a tweet promulgating the idea that Naomi might be a persona or a fake does not land lightly. In the post-truth era, it's especially incumbent upon traditional media to double-check rumors before citing them in any context.
What is personally disappointing is that Dale reached out to me on November 2nd with an email asking what I thought about an anonymous post that accused Naomi of being a fake. I vouched for Naomi as a real person and as a budding Maker; I wrote back to Dale that "I take the approach of interacting with her like any other enthusiastic, curious Maker and the resulting interactions have been positive. She's a fast learner."
Yet Dale decided to take an anonymous poster's opinion over mine (despite a long working relationship with Make), and a few days later on November 5th he tweeted a link to the post suggesting Naomi could be a fake or a fraud, despite having evidence of the contrary.
So now Naomi, already facing prototype bias and idol-effect expectations, gets a big media personality with substantial power propagating rumors that she is a fake and a fraud.
But wait, it gets worse because Naomi is in China!
4. Guanxi Bias
In China, guanxi (关系) is everything. Public reputation is extremely hard to build, and quick to lose. Faking and cloning is a real problem, but it's important to not lose sight of the fact that there are good, hard-working people in China as well. So how do the Chinese locals figure out who to trust? Guanxi is a major mechanism used inside China to sort the good from the bad – it's a social network of credible people vouching for each other.
For better or for worse, the Chinese feel that Western faces and brands are more credible. The endorsement of a famous Western brand carries a lot of weight; for example Leonardo DiCaprio is the brand ambassador for BYD (a large Chinese car maker).
Maker Media has a massive reputation in China. From glitzy Maker Faires to the Communist party's endorsement of Maker-ed and Maker spaces as a national objective, an association or the lack thereof with Maker Media can make or break a reputation. This is no exception for Naomi. Her uniqueness as a Maker combined with her talent at marketing has enabled her to do product reviews and endorsements as source of income.
However, for several years she's been excluded from the Shenzhen Maker Faire lineup, even in events that she should have been a shoo-in for her: wearables, Maker fashion shows, 3D printing. Despite this lack of endorsement, she's built her own social media follower base both inside and outside of China, and built a brand around herself.
Unfortunately, when the CEO of Maker Media, a white male leader of an established American brand, suggested Naomi was a potential fake, the Internet inside China exploded on her. Sponsors cancelled engagements with her. Followers turned into trolls. She can't be seen publicly with men (because others will say the males are the real Maker, see "prototype bias"), and as a result faces a greater threat of physical violence.
A single innuendo, amplified by Power Asymmetry and Guanxi Bias, on top of Idol Effect meshed against Prototype Bias, has destroyed everything a Maker has worked so hard to build over the past few years.
If someone spread lies about you and destroyed your livelihood – what would you do? Everyone would react a little differently, but make no mistake: at this point she's got nothing left to lose, and she's very angry.
Reflection
Although Dale had issued a public apology about the rumors, the apology fixes her reputation as much as saying "sorry" repairs a vase smashed on the floor.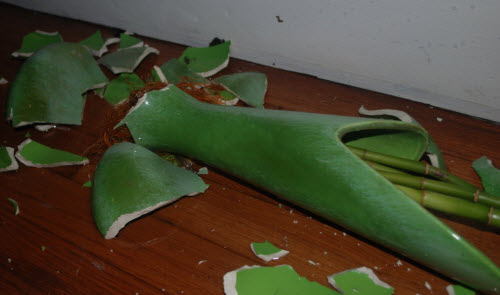 Image: Mindy Georges CC BY-NC
At this point you might ask — why would Dale want to slander Naomi?
I don't know the background, but prior to Dale's tweet, Naomi had aggressively dogged Dale and Make about Make's lack of representation of women. Others have noted that Maker Media has a prototype bias toward white males. Watch this analysis by Leah Buechley, a former MIT Media Lab Professor: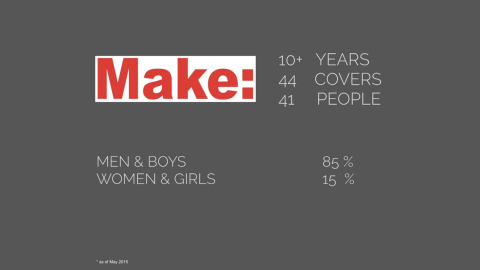 Dale could have recognized and addressed this core issue of a lack of diversity. Instead, Dale elected to endorse unsubstantiated claims and destroy a young female Maker's reputation and career.
Naomi has a long, uphill road ahead of her. On the other hand, I'm sure Dale will do fine – he's charismatic, affable, and powerful.
When I sit and think, how would I feel if this happened to the women closest to me? I get goosebumps – the effect would be chilling; the combination of pervasive social biases would overwhelm logic and fact. So even though I may not agree with everything Naomi says or does, I have decided that in the bigger picture, hiding in complicit silence on the sidelines is not acceptable.
We need to acknowledge that prototype bias is real; if equality is the goal, we need to be proactive in correcting it. Just because someone is famous doesn't mean they are perfect. People with power need to be held accountable in how they wield it. And finally, cross-cultural issues are complicated and delicate. All sides need to open their eyes, ears, and hearts and realize we're all human. Tweets may seem like harmless pricks to the skin, but we all bleed when pricked. For humanity to survive, we need to stop pricking each other lest we all bleed to death.
/me dons asbestos suit
Update: November 20, 2017
Make has issued an apology, and Naomi has accepted the apology. My sincere thanks to the effort and dedication of everyone who helped make this right.