I recently saw a Forbes article citing rumors that the iPhone X is being cancelled this summer. Assuming the article is correct, it claims that a "lack of interest in China" is the main reason for the relatively early cancellation of production. They're hoping that 6.1″ and 6.5″ versions of their phone with a less pronounced Face ID notch would excite Chinese customers.
The notion of a "less pronounced" Face ID notch is what got me — Apple embracing the notch as iconic, and worth carrying forward to future models, rather than simply making the top bezel a bit larger and eliminating the notch altogether. Historically, Apple has taken a "less is more" strategy, meticulously eliminating even the tiniest design facets: replacing radii with splines, polishing off injection mold parting lines, even eliminating the headphone jack. Putting a notch on the iPhone feels a bit like watching a woman painstakingly apply face whitening cream day after day to remove tiny blemishes, and then don a red clown nose.
Like the red clown nose, the problem with pushing the notch is that anyone can put one on, should they decide it's a feature they want to copy. Xobs recently showed me an app on his Xiaomi Mix 2 that does exactly that. Below is what his Xiaomi Mix 2 looks like normally.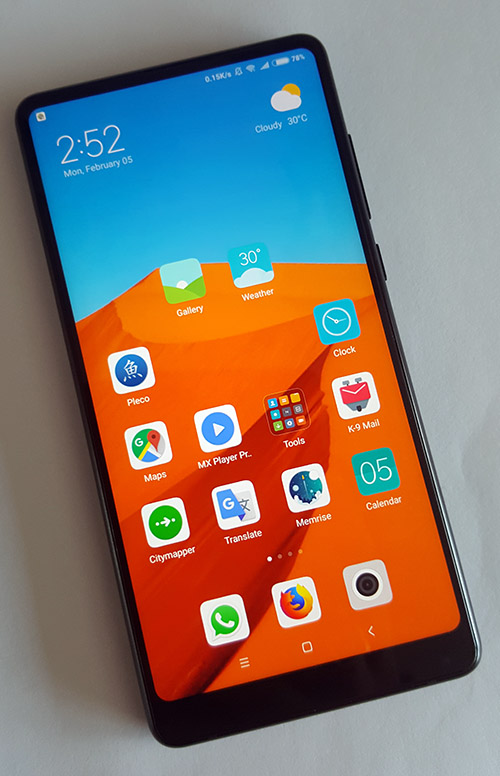 It's got a screen that goes right up to the top bezel, without a notch.
Interestingly, there's an app you can run called "X out of 10" that simply draws in the notch (including subtle details like a simulated camera lens). Here's the app in the off state: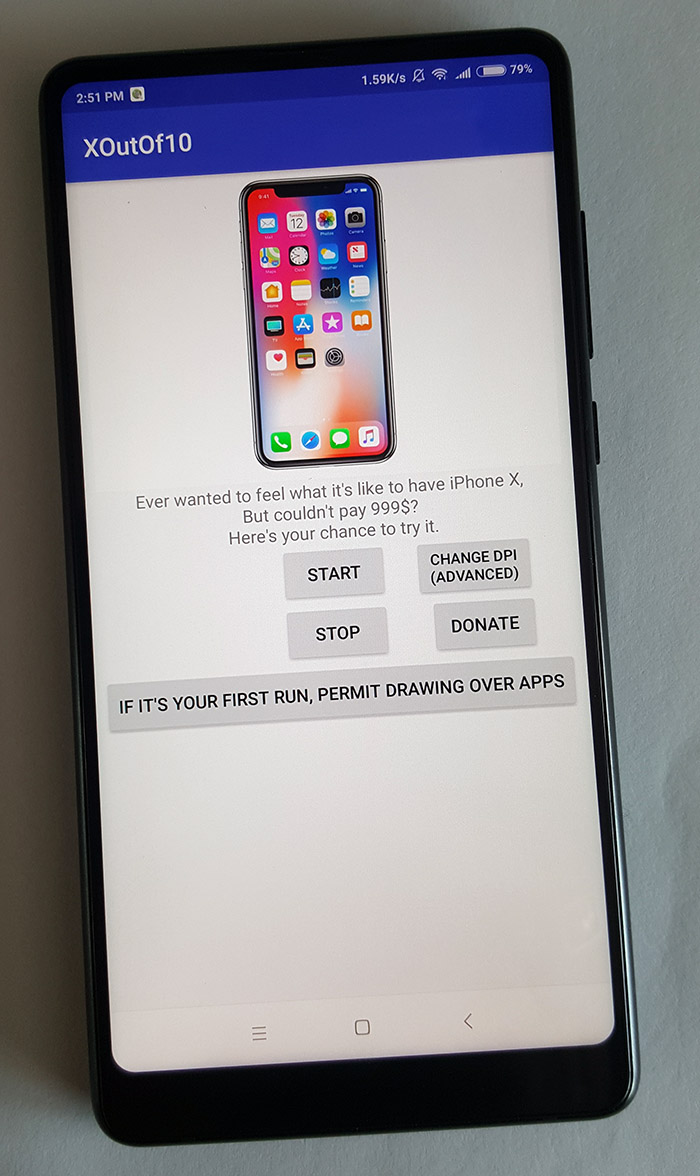 And now in the on state: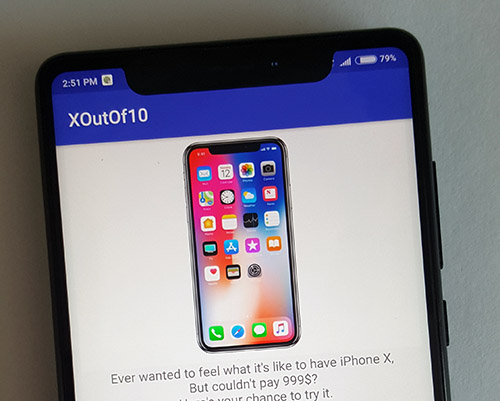 Once activated and given permission to draw over other apps, Xiaomi Mix 2 users can don the red clown nose and experience the full glory of the iconic Apple notch all the time: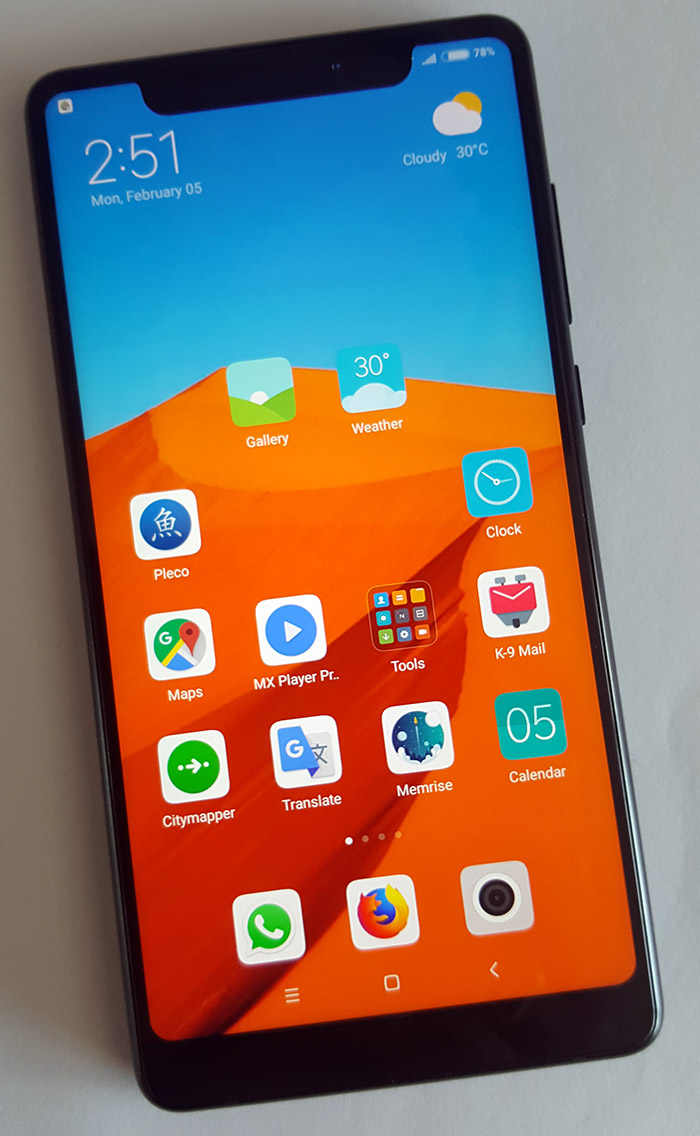 This glass-half-empty situation is a parable for design leadership versus market perception: if a market previously lacked a smartphone with a minimal top bezel, the notch is perceived as "How innovative! I've got extra pixels to the left and right of my earpiece/camera assembly!". But once a market has seen a smartphone with minimal top bezel, the notch turns into "Hey where did my pixels go? What's this notch doing here?". It's a case where the additional design feature is seen as a loss of function, not a gain.
Thus it will be interesting to see if Apple's bet to introduce a phone with a larger screen that can compete head to head in China against the likes of the Xiaomi Mix 2's 6″ screen will pay out, especially if Apple retains the notch.
Of course, as the design space for phones becomes more and more crowded, Apple's room to maneuver becomes increasingly limited. The minimalist design space is winner-takes-all: the first company to elegantly remove a design facet wins the minimalism race, and now that Xiaomi has planted a flag in the bezel-less top space, it may be that Apple has no option but to sport the top-notch, or run the risk of being seen as copying a Chinese company's design language.
Edit (added Feb 12, 17:43 SGT):
Several comments have been made about the iPhone X still having a greater amount of screen real estate than the Xiaomi Mix 2.
To clarify, the key point of the article isn't about comparing active area. It's about running out of options to place a sensor cluster, because the smartphone design space has gotten a lot more competitive. To spell it out explicitly, there are three main ways this can play out:
1) Apple can't hide a camera underneath the display, and so there always has to be a "dark area" that's an affordance for the camera (and more significantly, the multitude of sensors that comprise FaceID).
2) Apple (or perhaps someone else!) figures out how to hide a camera under the display and creates a true bezel-to-bezel phone.
3) Apple convinces us all that the notch is truly iconic and it's hailed as one of the greatest design innovations of this decade (hey, they did it for the headphone jack…).
In the case of 1 (Apple can't hide the sensor cluster), these are their options:
(a) Continue to push the top notch as iconic – status quo
(b) Lose the notch by increasing top bezel area for sensor cluster — that's "taking a step backward" – so not really an option
(c) Move sensor cluster to the bottom, with no notch. This is copying the Xiaomi Mix 2 almost exactly – so not an option
(d) Continue to push the notch as iconic, but put it on the bottom. Risks the top-half of the phone looking too much like a Xiaomi Mix 2 – so probably not an option
So in the race for minimalism, because Xiaomi has "claimed" the minimal bezel top-half design space, Apple has far fewer options for backing out of the notch, should it be perceived by the market as a loss of real estate, rather than a gain. But this is the world Apple has created for themselves, by patenting and litigating over the rounded rectangle as a phone design.
In the case of 2 (Apple figures out how to hide all the sensors), Apple can really win the minimalist design space if they can do it without reducing functionality. However, if they could have done this, I think they would have done it for the X. They certainly have the cash to throw the equivalent budget of SpaceX's Falcon rocket program into eliminating that notch. Indeed, perhaps in a year or two Apple will come out with some crazy fiber optic wave guide assembly with holographic lenses to wrap light around the bezel into a sensor assembly stashed in the body of the phone. I wouldn't put it beyond them.
But until then, it seems Apple is looking at option (1) for the next generation at least, and the point of this article is that the competition has robbed Apple of at least two options elegantly to back out of the notch and create a phone with greater appeal to markets like China.