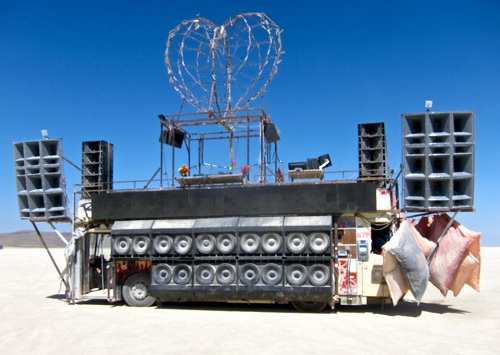 Ever wonder what 85,000 watts looks like? Fear not, above is a handy visual aid.
This is the Robot Heart, which drove every night onto the deep playa at Burning Man and filled the desert with the cleanest, most powerful sound system I had ever heard. It was love at first beat — you can feel the bass in your chest from over a hundred meters away, and it sounds fabulous close-up. And the desert being a near-ideal infinite baffle, there are no reflections or echos to diminish the soundfield; you can still hear the clear and pure sound of the Robot Heart from almost a kilometer away. The best part is the whole thing is on wheels — it's a rather surreal sight to see hundreds of people clad in fuzzy hats, LEDs, and EL-wire dance-walking along side the Robot Heart as it slowly migrates into the deep desert.
There's nothing like watching the sunrise to the beats of the Robot Heart.
Shout-out to the Phage for being such an awesome and kind group of people to camp with. :) There's no better way to spend a week camping in the desert than learning from a bunch of interesting and intelligent people.